The Department of English, under the Faculty of Arts and Humanities, commenced its journey when Notre Dame University Bangladesh was granted permission to begin the academic session by the University Grants Commission of Bangladesh in December 2014.
MEssage from the department head
Professor, Chairman, Department of English
Read about the department of Business administration
The Department of English, under the Faculty of Arts and Humanities, commenced its journey when Notre Dame University Bangladesh was granted permission to begin the academic session by the University Grants Commission of Bangladesh in December 2014.
The Department currently offers a wide range of undergraduate and graduate courses in English literature, language, linguistics, and ELT to hundreds of students. The course curriculum is designed to equip the students with the skills essential to pursue careers in the academic as well as the non-academic world. Its value-based and service-oriented curriculum features a wide variety of foundational and interdisciplinary courses along with its up to date core courses in English literature, language and ELT to help the students to contextualize their learning in relation to their historical and cultural realities. The unique blending of English literature and ELT core courses in B.A. (Honours) programme makes the graduates competent to pursue their higher studies in both English literature and ELT. Virtually all courses here require extensive and intensive reading, writing and presentation, along with active participation in the classroom discussion. The graduates possess skills in written and spoken communication, independent thought and judgment as well as critical thinking and research, all of which are highly valued by students as well as parents. Above all, the Department features a growing number of highly educated faculty members whose energetic, congenial, and cerebral presence makes the Department an excellent centre of literary creativity, and intellectual inquiry and discovery.
The Department makes a continuing commitment to providing its students and faculty members with first-rate facilities, such as a multimedia language lab, a seminar and reading room, and online access to a well-stocked library.
The Department is also committed to promoting discussion of contemporary literary/linguistic theory and practice and research in English literature and ELT. So students are encouraged to participate in departmental seminars, featuring speakers from within and outside the University.
The Department runs NDUB English Club, which arranges a weekly reading circle, and public speaking session to foster students' rhetoric and presentation skills. The Club's reading circle focuses on sharpening students' ability of critical thinking and analytic reasoning. From time to time, the Club also organizes seminars and workshops where the Department's students play a vital role. The Club publishes magazines on the bimonthly and yearly basis. The Department's students also have active participation in the Debating Club, Drama Club, Business Club, and the Cultural Club of the University.
The Department of English offers following program:
Bachelor of Arts in English Language & Literature (ELL)
The Department of English has been offering a 4-year undergraduate Degree program since 2014. The 4-year Degree program is spread over twelve trimesters with three trimesters per academic year. Admission is offered thrice a year.
The Department of English is offering a 16-months Graduation Program from 2021. This 16-months Master program is spread over 4 trimesters (including thesis) with three trimesters per academic year. Admission is offered three times a year.
Master of Arts in ELT & Applied Linguistics
The Department of English is offering a 16-months Graduation Program on ELT and Applied Linguistics from 2021. This 16-months Master's program is spread over 4 trimesters with three trimesters per academic year. Admission is offered three times a year.
At Notre Dame University Bangladesh, the Department of English, established in 2014, enables students to evolve in critical thinking along with their proficiency in the English language. Moreover, with literature written in English, and in critical and creative writing, by prudently uniting breadth with depth and tradition with contemporaneity, students deepen their understanding of narratives and their context, through the lens of history, psychology, culture, linguistics and comparative literary texts. In addition, the Department aims at research and scholarship, independently or collaboratively, on aspects of literature and language and to publish the results of our work widely.
Objectives of the department
The Department provides a liberal education in the pedagogical realm where courses are designed to blend the 'thinking arts' with practical training. For instance, classrooms are well equipped with technical support so students learn about rhetoric, logic, and grammar, along with fiction, prose, poetry, drama, and literary theories. More specifically, we aim to graduate students who have:
The reading skills to examine literature from multiple eras, cultures, and genres with critical understanding
The ability to express themselves clearly and comprehensively, orally and in writing
Research skills which enable them to expand, from a variety of perspectives, their own readings of literature and understanding of language
An appropriate knowledge of relevant fields within the discipline, including literature; literary history, criticism, and theory; the language structures of modern English and the history of the English language
The specific strategies we use to achieve these goals include:
The close reading of texts in lectures, seminar presentations, and small-group discussions
The writing of analytical and other kinds of essays
Creative writing
Professional writing
Studio classes in theatre/drama and video production
On the other hand, club activities and academic centers like the English Language Centre, and performative aesthetics for staging of literary productions, and various seminars and workshops by contemporary academic veterans constructs a practical learning environment for our students.
The department appreciates thesis writing at undergraduate level. Many students visit various sites and remote areas to conduct their research. Students who are doing the major in Literature or Linguistics, are supervised by efficient academics to do a lot of research works with the help of the well-equipped NDUB library. Students who do not pursue thesis writing, submit s term paper and a comprehensive exam of 100 marks.
The broader prospect of English graduates is teaching, whether graduates are from the literature or linguistics stream. Bangladeshi schools, colleges, and universities need a wide range of faculty members for all English courses of all departments. However, graduates can also opt to be a researcher at various national and international research organizations, UN organizations (for instance, UNDP, UNICEF, UNESCO, ILO, and such).
Secondly, most of the English graduates are seen to perform efficiently in the print and visual media. As the Mass Media sector requires aesthetics and language skills, here the English graduates are mostly preferred.
Certainly, for any job, apart from technical skills, most important requirement is 'Intelligence' which means one's capacity for logic, understanding, self-awareness, planning, creativity, problem solving, and eventually applying knowledge within an environment or context.
Reading makes a full man, conference a ready man, and writing an exact man, says Francis Bacon. By reading global literature and language, one understands history, politics, culture, international relations, and human psychology. Thereby, English Language and Literature smoothly, in tune, incorporates other disciplines, which makes it stronger.
Undoubtedly, this Department introduces such readings through which one can critically perform as a Statesperson who would have sound sense on the State policies in relation to culture, politics and the public psyche. In addition, to crack high score in BCS exam, one has to be proficient in English language.
In the Banking sector, if officials, have read the theory of power and money in relation to society and civilization, to be specific: theories by Marx and Weber, one can value the role of banking in a different way in society. Here again, fair selection in a job means high score in the selection exam where English language plays a great role. And the best way to learn a language is by reading.
Finally, entrepreneurship is one of the most creative sectors. To understand business, one has to understand how trends develop. Cultural, psychological, and literary theories would give a clear idea how a product or knowledge is produced and promoted, as well as consumed by the society that not only enhances the number of consumers but also creates a 'taste' for the products.
Every job is a performance, and performance means: speech and gesture — both are the pillars of literary practice. Novelists communicate through their characters, poets through their verses, and political activists through their slogans. It is all about having strong communication skills, whatever the job area is. And the Department of English perfectly trains in that direction.
Get to know our Department of English Faculty Members
Department of English Notice
Business Club
Notre Dame University Bangladesh Business Club had an amazing opportunity to visit the Social Marketing Company Enterprise Ltd. factory, Mymensingh, Bhaluka on 26 November 2022
Read More »
Events
Notre Dame University Bangladesh (NDUB) Business Club took the initiative to hold a workshop on "Investment in the Capital Market" on 15th October 2022 (Saturday).
Read More »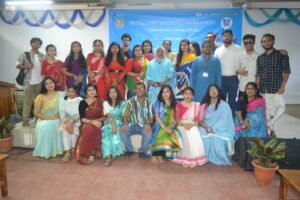 Events
NDUB Drama and Film Club has organized a program entitled to"এসো শরতের আকাশ ভেলায়" / "Asho shorot er akash bhelai" on 27th September 2022 at Notre Dame University Bangladesh's Open Square. The program is
Read More »
Necessary info on double major, internship/thesis, teaching assistance​
sample necessary informations Samle
Rules for doing majors in two streams
If a student of Batch 1 or Batch 2 decides to pursue a second major, they will be allowed to do so after they complete their internship program. However, if a student of a subsequent batch (Batch 3 or higher) wishes to pursue another major course, they will have to complete all the required academic courses before beginning their internship program.
Those who have capacity to take 5 courses in each trimester, will be allowed to complete 10 (ten) courses of their Major stream in two trimesters. But those who would find 5 courses in each trimester too much, will take two courses in an extra trimester for their second major after completion of the requirements of the first major stream.
This means, the students of third and the following Batches will have to decide about taking a second major before their internship program and then inform the Chairman of the Department. Only after completing all required courses—for both 1st & 2nd majors—they will they will be allowed to begin their internship program.
Rules of Internship or Thesis
Rules for Teaching Assistance
The campus is vibrant with activities. There are many opportunities for getting involved in extra-curricular activities at Notre Dame University Bangladesh (NDUB). The instructors may be demanding, yet are very friendly and helpful and so are all the staff and support people. When you need help, there will be help for you.