Department of Business Administration organized a successful close-door Seminar entitled "Green Growth in South Asia" for the students of Business Administration on 9 October 2023, from 3.45 PM to 4.45 PM at NDUB in Room number 414. Margaret (Maggie) Triyana, Senior Economist, Chief Economist Office, South Asia Region, World Bank was the resource person for this seminar. In this seminar, she presented a research-based report from the World Bank regarding the current status of green growth in the South Asian Region, which is entitled "Toward Faster, cleaner growth". Thirty-five (35) students of the Department of Business Administration and all faculty members of business and economics participated in this seminar.
The seminar began with the welcoming speech of the Chief Guest, Dr. Fr. Patrick Daniel Gaffney, CSC, Vice Chancellor, Notre Dame University Bangladesh. Afterward, Dr. Fr. Patrick Daniel Gaffney, CSC, along with, Dr. Fr. Charles B. Gordon, CSC, Pro-Vice Chancellor, and Prof. Dr. Parimal Chandra Datta, Chairman of the Department of Business Administration welcomed the resource person with a flower bouquet. The presentation session starts after the welcoming session. The main objective of this Seminar was to keep the students updated about the current trend of green growth in South Asia and how these might change business and economics in the near and far future. The report mainly intended to focus on the following objectives:
• To illustrate the economic outlook of South Asia.
• To identify the probable ways of addressing the fiscal risks in South Asian regions/ countries.
• To identify which factors can spur investment in energy-efficient technologies.
• To demonstrate the ways through which the energy transition will shape the labor market.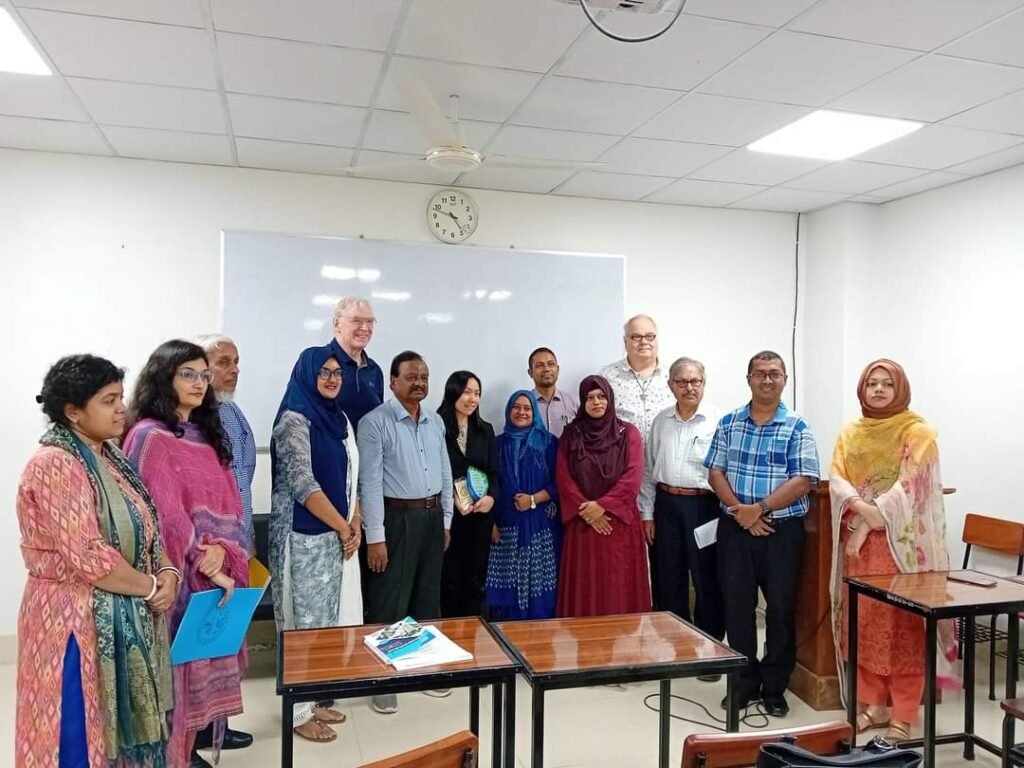 After the presentation session a question-answer session was conducted where the students and faculties provided their reflections regarding different issues discussed in this report and the resource person also clarified all the confusion of students and faculty members regarding different aspects of the report.
The seminar ended with thanking the resource person and presenting her with a few tokens of appreciation from the department and the university.
Finally, it can be said that this type of Seminar is essential to keep the students updated about the burning issues and trends in local, regional, and international business and economics.